The power to protect Alameda County's natural resources is in your hands. Be part of a generous community passionate about solving some of the greatest environmental issues facing our region today, from mitigation of climate change to the preservation of wildlife species and their respective habitats.
Your donation will help to fund on-the-ground conservation efforts through partnerships, education, outreach, resource services, and technical assistance to farmers, ranchers, volunteers, public agencies and corporations, school children, and underserved communities. We provide science-based solutions to protect and restore our natural world.
Your support of the ACRCD is an investment in ensuring the resilience, health and sustainability of California's precious water, soil, wildlife, habitat, and other natural resources — today and for generations to come.
---
Support Monarch Habitat Restoration
The Western monarch population has drastically plummeted to a record low. With an estimated 4.5 million overwintering individuals gracing the Pacific coast in the 1980's, to the most recent 2020 Western monarch overwintering count of less than 2,000, this iconic pollinator quickly needs our help. (Pelton et al. 2019; Xerces Society Western Monarch Call to Action).
Your donation enables us to participate in local and regional efforts to save the western monarch through habitat restoration and enhancement activities at overwintering, breeding, and migratory habitat sites on public and private lands.
Funds donated will support landowner outreach, site assessments, flowering nectar species establishment, monitoring, and assist us to provide public education opportunities – a win, win for monarchs, other natural resources, and our local community.
Click Here to Learn More About Monarch Habitat Restoration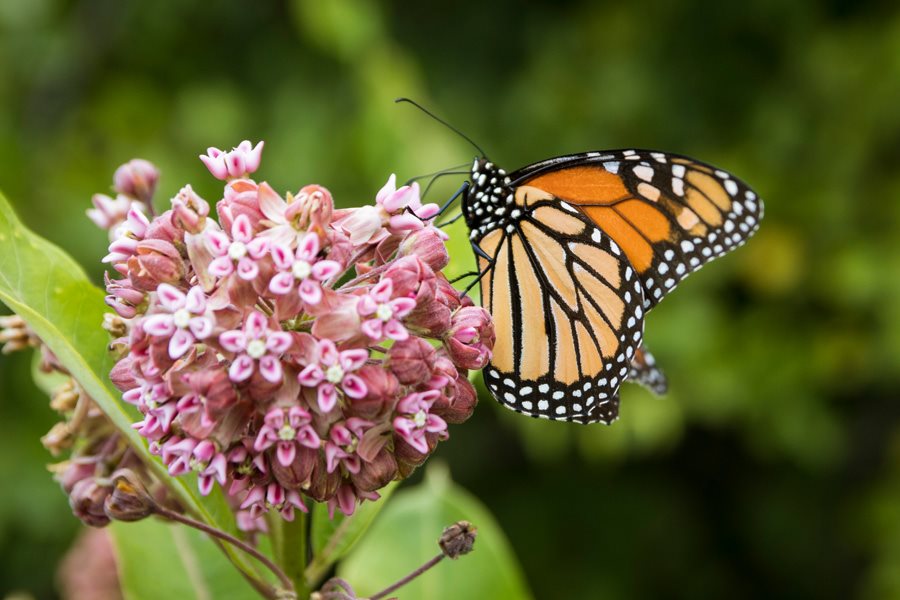 ---
Support Greenhouse Gas Reduction through Carbon Farming
Working landscapes have a significant role to play in reducing greenhouse gas (GHG) emissions and mitigating global climate change, particularly through use of farming, ranching, and ecological practices to capture and retain carbon in vegetation and soils.
While many of these management practices have been used by land stewards for generations, the term Carbon Farming has recently been coined to describe the deliberate pursuit of carbon sequestration and soil enhancement. Compost addition, cover cropping, riparian planting, and prescribed grazing are a few practices that effectively improve soils and capture carbon.
With your support, we can expand our Carbon Farming work in Alameda County through additional outreach to landowners, the ability to apply for Carbon Farming grants, and the continued assistance to farmers and ranchers in implementing carbon farming practices.
Click Here to Learn More About Carbon Farming
---
Support the Wildlife Corridor throughout Alameda County
Urbanization and infrastructure restrict wildlife's natural movements through expansive ranges and causes habitat fragmentation. Alameda County recognizes the importance of wildlife transportation crossings and land corridors as essential methods to overcome local extinctions of wildlife.
Help support our partnership with UC Davis through ALOSC land acquisition and conservation easements to provide much needed, safe wildlife corridors. This is a multi-year study to locate and secure optimal locations for wildlife crossings and connectivity across Alameda County.
Click Here to Learn More About Wildlife Corridors in Alameda County
---
Support Education in our Community
We believe in the transformative power of knowledge. Give the gift of science through education and help support local environmental workshops. Your donation assists in the research and sharing of important educational trainings that build best practices for nourishing local wildlife and ecosystems in our area.
Your gift will subsidize the cost of the trainings and allow youth, adults, and environmental professionals to attend, who would otherwise be unable due to financial limitations.
Click Here to Learn More About Trainings & Workshops
---
Support Riparian Restoration
 Many of the livestock ponds in the East Bay were built 30-60 years ago and are now reaching the end of their lifespans. In addition to providing a reliable water source for cattle, they also provide habitat for native species, including the California red-legged frog and California tiger salamander – it is vitally important that this supplemental habitat is not lost.
Help support water sources for wildlife including dragonflies, bobcats, and deer.
Click Here to Learn More About Wildlife Friendly Ponds
---
Thank you for your donation!
You've added your voice to the gracious supporters committed to defending and preserving our community's precious resources.
On behalf of the staff and Board of Directors of Alameda County Resource Conservation District, thank you for your generous support! You will receive a confirmation email to the email address provided.
Every single donation makes a difference! Your involvement is essential to support water quality and availability, wildlife preservation, agriculture, and our climate. You may select from any of the options below to identify your preferred amount of support. We also graciously accept employee and employer partnership donations.