Alameda County Resource Conservation District (ACRCD) Mission
The mission of the Alameda County Resource Conservation District (ACRCD) is to provide leadership in the County and region in natural resources conservation, wildlife and habitat preservation, and agricultural enhancement through partnerships, education, outreach, resource services and technical expertise.
Creeks & Livestock Webinar
Alameda County Resource Conservation District invites you to a discussion of Climate Smart Restoration solutions with Point Blue Conservation Science's STRAW(Students and Teachers Restoring a Watershed) program and Copper Moon Ranch. We will discuss restoration in the context of Carbon Farming, the importance of planning for future conditions, and student engagement in hands-on restoration of working lands.
This event is made possible by the California Department of Food & Agriculture and the State Coastal Conservancy, which have both awarded grant funds to the ACRCD through the California Climate Investments to plan, implement, and monitor carbon farming projects.
This event will be held over Zoom on June 29, 2021 from 12:30-1:30 PM. Click here to register or for more information!
Keeping Rangelands Working
Are you worried about the current conditions of extreme drought in Bay Area rangelands? Read University of California Agriculture and Natural Resource's newsletter about possible actions land managers can take to navigate these conditions. For more information click here.
Hoja de Datos del Cultivo de Carbono
¿Quiere saber más sobre las formas en que los agricultores y ganaderos pueden ayudar a mitigar el cambio climático mientras mejorando la salud del suelo y aumentando el rendimiento de los cultivos y la producción de forrajes? Descargue la hoja de datos para aprender más sobre el cultivo de carbono y cómo participar.
Wildfire and You: Protecting Your Home from Wildfire
The recording for the "Wildfire and You: Protecting Your Home from Wildfire" workshop hosted by Contra Costa Resource Conservation District and Alameda County Resource Conservation District is now available! Learn about actions residents can take in and around their homes to protect against the threat of wildfires. Topics included home hardening, defensible space creation, defensible space and chipping programs in our counties, and actions our own RCD members have taken to fire-scape their homes. The RCD's were thrilled to host two guest speakers:
Douglas Kent
Principal, Douglas Kent & Associates
Adjunct Professor, John Lyle Center for Regenerative Studies at CalPoly Pomona Author, Firescaping: Protecting Your Home with a Fire-Resistant Landscape
Cheryl Miller
Executive Director, Diablo Fire Safe Council
For extra resources on home hardening, please email: [email protected]
USDA/SBA Drought Notification
Are you a farmer/rancher or small business who has been impacted by drought? Please see attached notifications regarding the U.S. Department of Agriculture designation and U.S. Small Business Administration declaration as the result of fast track Drought. This will open up some funding sources through USDA FSA for eligible, impacted parties including emergency farm loans for physical and crop production losses. Please contact the FSA office in Stockton for more information on eligibility in Alameda County.
Spreading Compost on Rangelands: Preparing For and Executing Carbon Farm Projects
On February 9, 2021, the Alameda County Resource Conservation District and its partners gathered virtually for a discussion on spreading compost on rangelands. Carbon farm planners, farmers, ranchers, and practitioners heard about costs, compost quality, and lessons learned from demonstration carbon farming projects. Ranchers shared their experiences applying compost through CDFA's Healthy Soils Program Demonstration and Incentives projects.
2021 CFDN Meeting Series
The California Farm Demonstration Network is hosting a four-part series on California soils. This series will feature four speakers, each with extensive knowledge of California soils through the lens of farming and agriculture. Speakers will be covering various topics, including composting, orchard recycling, soil sampling, testing for microbial dynamics, and more.
When: March 24, April 21, May 19, June 16.
Each session will be 11:00 a.m. – 12:30 p.m.
Where: Online via Zoom.
Alameda County Conservation Partnership
The Alameda County Resource Conservation District (ACRCD) and the USDA Natural Resources Conservation Service (NRCS) collaborate as the Conservation Partnership to serve as the lead conservation agency in Alameda County. We provide technical and educational services for natural resource conservation and agriculture enhancement. The Partnership collaborates with many partners including private landowners, local, state and federal agencies and other organizations to develop and implement various conservation and agricultural strategies. The ACRCD also works closely, on a fee for service basis, with public agencies and private sector companies, to help achieve conservation based goals.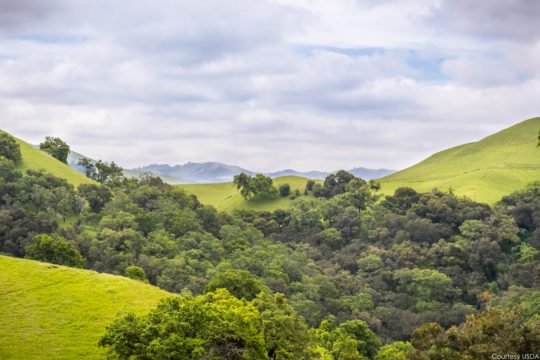 Latest ACRCD News
Barbara Camacho
Registration for the free, virtual Seventeenth Annual Bringing Back the Natives Garden Tour, which will take place on Sundays April 25 and May 2, 16, and 23, 2021 from 10:00 to 3:00, is now open.  This award-winning tour will be [...]
Barbara Camacho
The Alameda County Clean Water Program Poster Contest for 3rd and 4th Grade Students is now accepting posters! The theme for posters is "Keeping Helpful Bugs in the Garden" with prizes including "Bee Smart School [...]
Barbara Camacho
Click here to participate in CDFA's Healthy Soils Week, including webinars, at-home compost and gardening activities, as well as children's projects. These activities culminate for this Saturday's UN's World Soils Day on December 5th. [...]