Alameda County Resource Conservation District (ACRCD) Mission
The mission of the Alameda County Resource Conservation District (ACRCD) is to provide leadership in the county and region to enhance natural resources conservation, preserve wildlife and habitat, and improve rangeland and agricultural management through partnerships, education, outreach, resource services and technical assistance to clients, and funding support.
Disaster Recovery and Assistance: Drought, Fire and Floods
The ACRCD provides producers, farmers, and individuals living in Alameda County information and resources to support them during natural disaster events. Please refer to the Flood Resources and Fire webpages to read up to date information during and after local natural disaster events.
Farming and Agricultural Natural Disaster Webinar: Was your California farming operation impacted by a natural disaster? Or do you live in a California agricultural community that was impacted? Watch a virtual question-and-answer session to learn more about programs and resources that may be available to you.
Newsom Declares Storm Related State of Emergency: On Tuesday, March 28, 2023 Governor Gavin Newsom proclaimed a state of emergency to exist in Alameda, Marin, Modoc and Shasta counties resulting from a series of severe winter storms which have resulted in "significant storm-related impacts, including flooding, toppled trees, downed power lines and power outages, damage to commercial and residential structures, roads, and other critical infrastructure."
Project Update: Out in the field with the ACRCD 
If you take a stroll along the walking paths of Robertson Park, you might see ACRCD and Living Arroyos staff gathering water from the Arroyo Mocho stream to irrigate the newly planted Western sycamore stakes (live cuttings that were driven into the ground to take root and grow) for the Sycamore Alluvial Woodland (SAW) Pilot Study.
SAW is a rare plant community and habitat in California that is dominated by Western sycamore (Platanus racemosa). The towering trees grow along braided channels and intermittent streams, and their establishment is closely tied to the hydrology of these systems. They use winter rains and floods to carry and disperse their seed along meandering bends, side channels, and across sprawling floodplains. The seed deposits into gravel bars, point bars, and sediment benches, then germinate. The seedlings rely on the high winter and spring groundwater levels that recede into the summer to establish — hopefully to eventually becoming a tree with a canopy wide enough to provide respite from the hot summer heat for those of us that aren't adapted to intermittent water and high temperatures.
SAW supports a variety of species including Western pond turtle and steelhead trout. Western sycamore's large trunks and limbs provide cavities for nesting birds, insects, and mammals; while downed limbs provide riffles and pools for young fish when water is present in winter and spring. Changing climate conditions, land and water use, and flood regimes disrupt SAW and the hydrologic processes that are necessary for its regeneration, thus reducing the range, distribution, and condition of this rare habitat type.
HT. Harvey & Associates and the San Francisco Estuary Institute (SFEI) have been researching the ecology of this disappearing habitat, with the goal of restoring and enhancing SAW along braided channels and intermittent streams in Santa Clara and Alameda Counties. In support of H. T. Harvey & Associates and Zone 7 Water Agency, the ACRCD is implementing the maintenance and monitoring plans for two SAW pilot studies in Alameda County along Arroyo Mocho, with the goal of maintaining the health and vigor of the planted Western sycamore stakes and identifying effective methods for restoring SAW.
For further reading, take a look at the recently completed companion "Sycamore Alluvial Woodland Restoration and Enhancement Suitability Study" by SFEI and H. T. Harvey, which addresses distribution and regeneration patterns and restoration strategies of SAW. This study and the pilot Western sycamore planting along the Arroyo Mocho are part of the "Preparing for the Storm" project, a grant led by Zone 7 Water Agency and funded by the US Environmental Protection Agency Water Quality Improvement Fund.
Volunteers Wanted!
We are excited to announce the Clean Water Volunteers will be back cleaning up the Castro Valley Creek Trail for the 39th annual Coastal Cleanup Day! This effort will take place on Saturday, September 23, 2023 and is part of the statewide Coastal Cleanup Day. This event is made possible by the Alameda County Flood Control and Water Conservation District in coordination with Friends of San Lorenzo Creek. Volunteers will participate in a litter pickup along the creek trail and beautify the trail starting from the Castro Valley Library to Castro Valley Creek Blvd.
To learn more and register visit: https://2023castrovalleycoastalcleanup.eventbrite.com
Healthy Soils Program Demo Project
Have a ranch with steep slopes? Of course you do! It's Northern California!
Read our four year "Effects of Compost Amendments to Rangelands with Steep Slopes" study results to see the implications of our Healthy Soils Program Demo project in the Altamont Hills by clicking here. We love this exciting work! For more information on our Carbon Farming work, click here.
Explore your local Alameda County Watershed with this FREE interactive map tool!
Learn more about the local wildlife, hydrology, geology and recreation options in the watersheds.
There are two primary tools – 1) an interactive website and 2) Google Earth Pro KMZ files that you can download for free here: https://acrcd.org/projects/alameda-county-watershed-map/
1)     Explore Watersheds Website
The website has an online map with clickable watersheds and an overview with a printable map for each watershed in Alameda County. "Learn More" pages for each watershed include watershed features, creeks and waterbodies, flora and fauna, geology and hydrology, recreation opportunities, restoration efforts, and ways to get involved in protecting our watersheds.
2)     KMZ files for Google Earth Pro
In addition to the interactive, online map, teachers and students can easily download Alameda County Watershed Map KMZ files to their personal Google Earth Pro from the Explore Watersheds website. These layered maps let you compare the historical and present-day watersheds, zoom in on creeks and follow them to the Bay, and learn more about restoration projects, points of interest and places to visit.
If you have any questions, please email [email protected].
Managing California Grassland for California Tiger Salamander and California Red-legged Frog: Considerations When Applying Compost
Applying compost on rangelands has many potential benefits for soils and beyond—but what about putting compost in upland habitat where sensitive amphibians reside? Read the Alameda County Conservation Partnership's new factsheet: Managing California Grassland for California Tiger Salamander and California Red-legged Frog: Considerations When Applying Compost.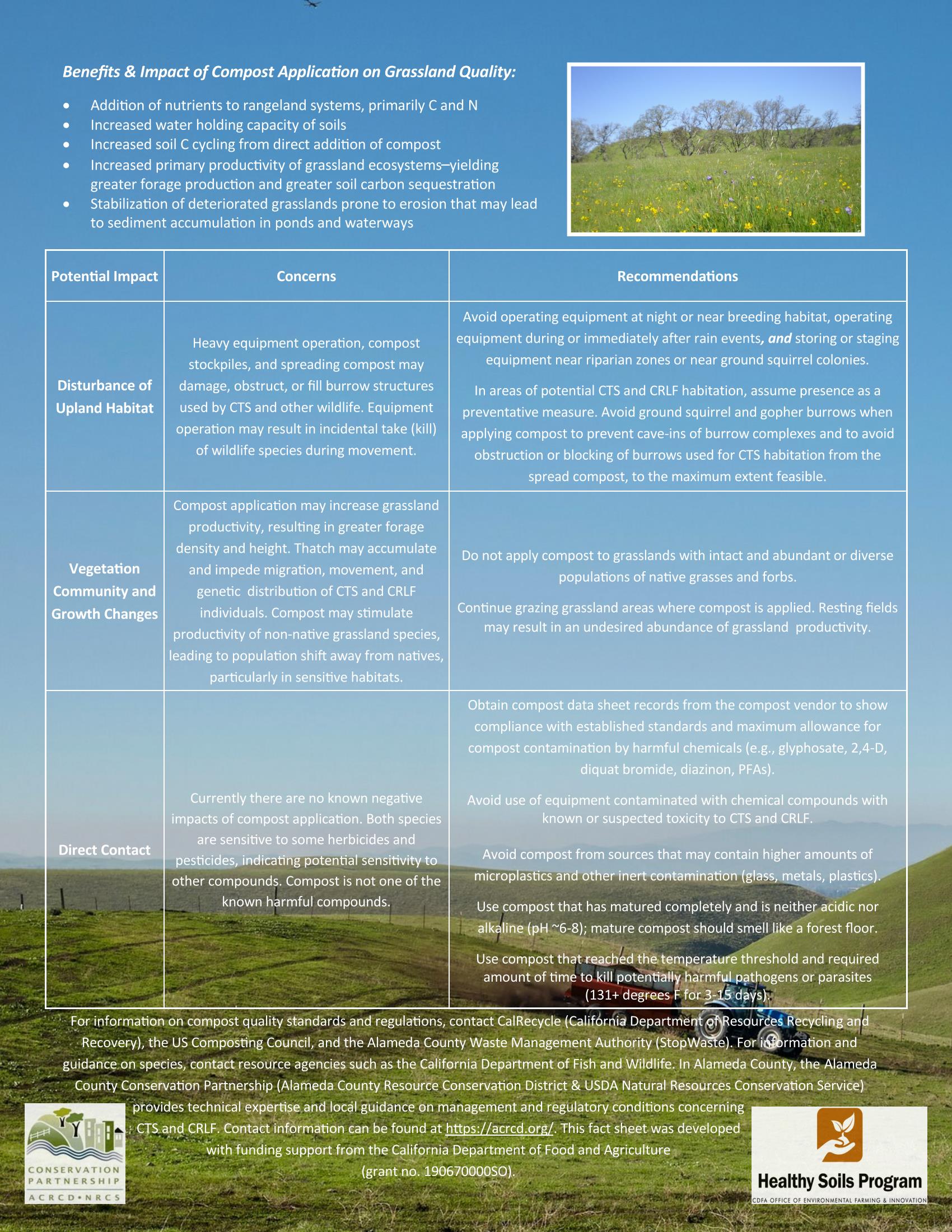 Curious About Soil Health?
Check out The Soil Awakens, a new video on the amazing soil life all around us. It provides great context for the work ACRCD does in our Carbon Farming, Healthy Soils, and Urban Agriculture programs, to name a few.
This video, and the products to follow, were produced under a UC Davis/USDA-NRCS collaborative project and are part of a national campaign to raise awareness about the value and importance of soil. It has been followed with a short animated video series and an interactive website, including a graphics-based intro to soil science, a media hub of vetted soils-related content, and clear, actionable items for people to 'get involved' with protecting and promoting soils in their everyday lives.
Videos will be shared as they are released.  If you are on social media, you can find and connect on Instagram @soil.life – Facebook @TheSoilLife – and Twitter @The_Soil_Life.
KQED's Forum
Get a regional perspective on the troubles and mysteries of the Western monarch butterfly population from KQED's Forum. Hear directly from local experts on the pressing issues of long-term data collection on pollinator declines, prospects of the Western monarch population, and considerations related to pesticide use, captive rearing, disease, climate change, and milkweed planting. Listen in for more information on what can be done to help the Western monarch butterfly population.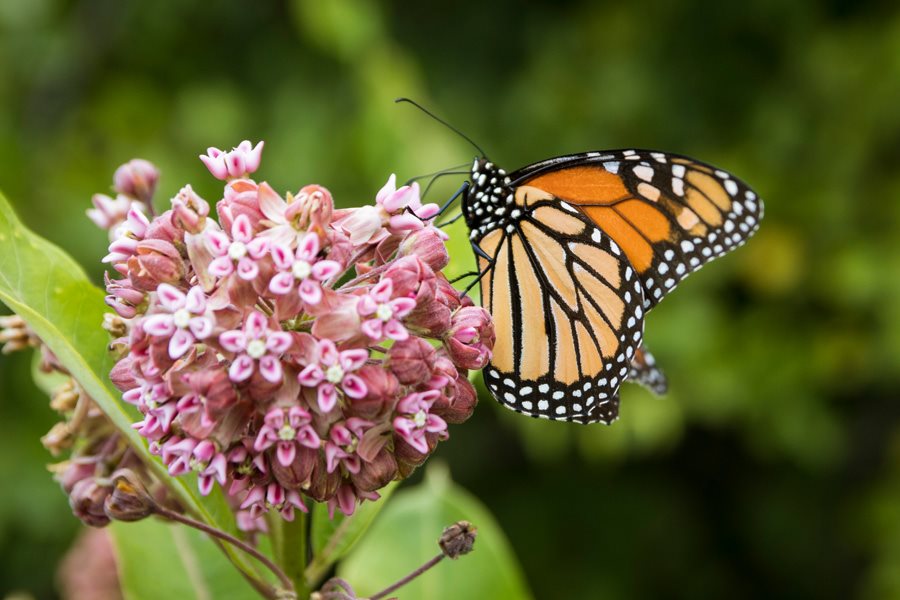 Alameda County Conservation Partnership
The Alameda County Resource Conservation District (ACRCD) and the USDA Natural Resources Conservation Service (NRCS) collaborate as the Conservation Partnership to serve as the lead conservation agency in Alameda County. We provide technical and educational services for natural resource conservation and agriculture enhancement. The Partnership collaborates with many partners including private landowners, local, state and federal agencies and other organizations to develop and implement various conservation and agricultural strategies. The ACRCD also works closely, on a fee for service basis, with public agencies and private sector companies, to help achieve conservation based goals.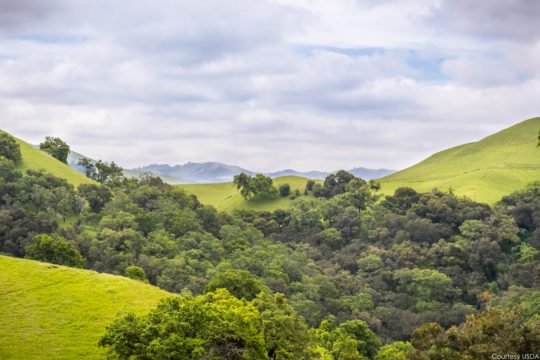 Latest ACRCD News
Barbara Camacho
Join with Clean Water Volunteers for a cleanup of the Castro Valley Creek Trail from Castro Valley Blvd. to the Castro Valley Library. Help Beautify Your Local Creek! When: Saturday September 18th 2021 9:00-12:00 pm [...]
Barbara Camacho
Join the Clean Water Volunteers and Hayward Area Recreation & Park District (H.A.R.D.) Volunteers In Parks (V.I.P.) for a litter removal and park beautification day and water testing demonstration! When: Saturday, September 11, 2021 9:45am [...]