Alameda County Resource Conservation District (ACRCD) Mission
The mission of the Alameda County Resource Conservation District (ACRCD) is to provide leadership in the County and region in natural resources conservation, wildlife and habitat preservation, and agricultural enhancement through partnerships, education, outreach, resource services and technical expertise.
Location change for second Fire Recovery Workshop for farmers and ranchers:
The second Fire Recovery Workshop on Monday, September 14, 2020, at 6:30 p.m. location has been changed. The new location is at the Pleasanton Fairgrounds. Its focus group is not only Alameda and Contra Costa County Cattlemen's Association but also Santa Clara ranchers who come and go through Livermore to get to the San Antonio Valley. Resources from USDA-NRCS, FSA and others will be giving presentations and have information available.
For more information on the workshops, click here.
Wildfire Emergency Resources for Farmers and Ranchers
Alameda County RCD Staff and Board of Directors wish to extend our continued support for those affected by the SCU Fire Complex and the surrounding wildfires in Alameda County. The NRCS and ACRCD deeply value our partnerships with landowners and want to be of assistance for any needs you may have. We understand how overwhelming certain circumstances can be, we hope this compilation of resources including critical deadlines will be of value in helping landowners successfully apply for wildfire emergency related assistance. Please visit the Disaster Assistance Discovery Tool specifically targeted to ranching, agricultural, and open-space issues. The tool walks producers through five questions that generate personalized results identifying which USDA disaster assistance programs can help them recover from a natural disaster. We hope our information and support will help all of those affected to recover from the wildfires as quickly and safely as possible.
Alameda County Conservation Partnership
The Alameda County Resource Conservation District (ACRCD) and the USDA Natural Resources Conservation Service (NRCS) collaborate as the Conservation Partnership to serve as the lead conservation agency in Alameda County. We provide technical and educational services for natural resource conservation and agriculture enhancement. The Partnership collaborates with many partners including private landowners, local, state and federal agencies and other organizations to develop and implement various conservation and agricultural strategies. The ACRCD also works closely, on a fee for service basis, with public agencies and private sector companies, to help achieve conservation based goals.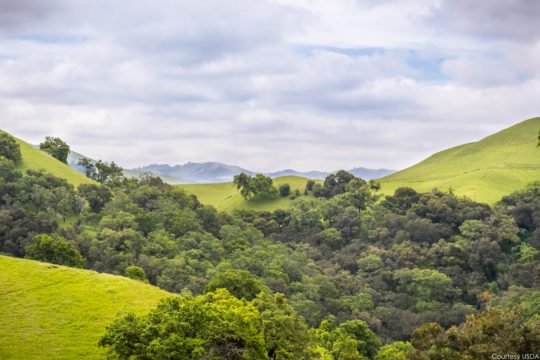 Lastest ACRCD News
Stephanie Lew
In response to the wildfires, the Alameda County RCD has compiled a list of resources to help farmers and ranchers recover from wildfires. We hope this information and support will help all of those affected [...]
Marilyn Harvey
Alameda County RCD Staff and Board of Directors wish to extend our continued support for those affected by the SCU Fire Complex and the surrounding wildfires in Alameda County. The NRCS and ACRCD deeply value [...]
Stephanie Lew
As fires continue to burn across California, our hearts go out to everyone who is affected. California Cattlemen's Association shares USDA resources for those who have been impacted by wildfires. You may be able to [...]