Alameda County Resource Conservation District (ACRCD) Mission
The mission of the Alameda County Resource Conservation District (ACRCD) is to provide leadership in the County and region in natural resources conservation, wildlife and habitat preservation, and agricultural enhancement through partnerships, education, outreach, resource services and technical expertise.
Funding Available for Clean Air Projects
The Air District has more than $40 million available for projects to upgrade or replace on-road vehicles, school buses, off-road and agricultural equipment, marine equipment, and locomotives. Apply online today. 
Applications are currently being accepted on a first-come, first-served basis for all equipment categories. Eligible project types include:
Visit the Air District website to apply online and to get more information about available funds and equipment eligible for funding. If you have any questions, join us for an informational webinar on December 17, 2020, 3:00 PM PST. Please register if you are interested in attending.
New California Wildfire Disaster Recovery Funding Pool
NRCS has just announced that they have a new funding pool, with $4 million available through EQIP for rapid response to recent wildfires. A select list of seventeen conservation practices is available to address immediate resource concerns such as erosion, invasive noxious weeds, and hazard trees.
Applications can be submitted through your local field office. Applications will be evaluated and selected for funding weekly beginning November 27 through the end of December 2020.
The office serving Alameda County is listed below:
Livermore LPO


3585 Greenville Rd Suite 2
Livermore, CA 94550-6707
(925) 453-3866
Follow this link to learn more about the California Wildfire Disaster Recovery funding pool: https://go.usa.gov/x7vgW
Carbon Farming Fact Sheet
Want to know more about the ways that farmers and ranchers can help mitigate climate change while improving soil health and increasing crop yields & forage production? Check out the Carbon Farming Fact Sheet to read more about carbon farming and how to get involved.
New Insurance Protections for Property in Wildfire Risk
Read Assemblymember Rebecca Bauer-Kahan's update regarding property insurance and wildfire risk. New protections from the California's Insurance Commissioner includes a one-year moratorium against insurance companies cancelling or non-renewing policies in zip codes within or adjacent to wildfire areas.
Fire Recovery Assistance from the California Office of Emergency Services
If you are a farmer or rancher conducting family-sized farming operations and you need financial assistance as a result of a wildfire, you may be eligible for the Farm Service Agency's Emergency Loan Program. On October 8th, the California Office of Emergency Services amended available wildfire recovery assistance in the form of the Emergency Loan program administered by the Farm Services Agency. Now, the Emergency Loan program is available to the contiguous county of Alameda for both physical and crop production losses. The application deadline is on May 28th, 2021 for a maximum of $500,000. To apply or for any questions, please contact:
Farm Service Agency
7585 S. Longe #100
Stockton, CA 95206
(209) 337-2124
Location change for second Fire Recovery Workshop for farmers and ranchers:
The second Fire Recovery Workshop on Monday, September 14, 2020, at 6:30 p.m. location has been changed. The new location is at the Pleasanton Fairgrounds. Its focus group is not only Alameda and Contra Costa County Cattlemen's Association but also Santa Clara ranchers who come and go through Livermore to get to the San Antonio Valley. Resources from USDA-NRCS, FSA and others will be giving presentations and have information available.
For more information on the workshops, click here.
Fire Recovery Assistance from the California Farm Service Agency
The U.S. Department of Agriculture (USDA) California Farm Service Agency provides assitance to help farmers, ranchers recover from natural disasters, such as wildfires. Listed below is an overview of applicable programs.
Wildfire Emergency Resources for Farmers and Ranchers
Alameda County RCD Staff and Board of Directors wish to extend our continued support for those affected by the SCU Fire Complex and the surrounding wildfires in Alameda County. The NRCS and ACRCD deeply value our partnerships with landowners and want to be of assistance for any needs you may have. We understand how overwhelming certain circumstances can be, we hope this compilation of resources including critical deadlines will be of value in helping landowners successfully apply for wildfire emergency related assistance. Please visit the Disaster Assistance Discovery Tool specifically targeted to ranching, agricultural, and open-space issues. The tool walks producers through five questions that generate personalized results identifying which USDA disaster assistance programs can help them recover from a natural disaster. We hope our information and support will help all of those affected to recover from the wildfires as quickly and safely as possible.
Alameda County Conservation Partnership
The Alameda County Resource Conservation District (ACRCD) and the USDA Natural Resources Conservation Service (NRCS) collaborate as the Conservation Partnership to serve as the lead conservation agency in Alameda County. We provide technical and educational services for natural resource conservation and agriculture enhancement. The Partnership collaborates with many partners including private landowners, local, state and federal agencies and other organizations to develop and implement various conservation and agricultural strategies. The ACRCD also works closely, on a fee for service basis, with public agencies and private sector companies, to help achieve conservation based goals.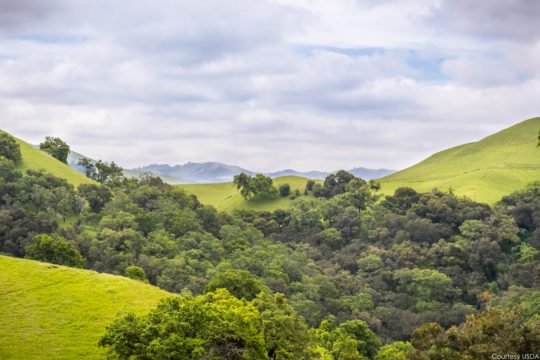 Lastest ACRCD News
Barbara Camacho
Are you interested in learning about the benefits of cover cropping? Did you miss University of California Cooperative Extension's Cover Cropping Opportunities in Specialty Crops webinar series? Free and accessible for all farmers, big or small! [...]
Barbara Camacho
Read about the amazing work our Conservation Partnership is able to accomplish with our Wildfire-Friendly Pond Restoration Program, featuring Jackie Charbonneau, NRCS Ecologist.   Click here to read the Bay Area Monitor's article.
Barbara Camacho
How can we prevent stormwater pollution this rainy season? Please watch this video, created for the Alameda County Clean Water Program, as it tackles what landowners and residents can do to prevent polluted runoff from [...]