Alameda County Resource Conservation District (ACRCD) Mission
The mission of the Alameda County Resource Conservation District (ACRCD) is to provide leadership in the County and region in natural resources conservation, wildlife and habitat preservation, and agricultural enhancement through partnerships, education, outreach, resource services and technical expertise.
Conserving Monarchs on Rangelands
Read from CARCD's Monarch Conservation Manager, Hillary Sardiñas, on what landowners can do on their property to benefit the declining western population of monarch butterflies. This factsheet features Alameda County RCD's and NRCS's partnership with 3 Calhoun Sisters' Ranch! Please contact Ricka Stoelting for more information on Monarch Conservation.
Funding Available for Clean Air Projects
The Air District has more than $40 million available for projects to upgrade or replace on-road vehicles, school buses, off-road and agricultural equipment, marine equipment, and locomotives. Apply online today. 
Applications are currently being accepted on a first-come, first-served basis for all equipment categories. Eligible project types include:
Visit the Air District website to apply online and to get more information about available funds and equipment eligible for funding. If you have any questions, join us for an informational webinar on December 17, 2020, 3:00 PM PST. Please register if you are interested in attending.
New California Wildfire Disaster Recovery Funding Pool
NRCS has just announced that they have a new funding pool, with $4 million available through EQIP for rapid response to recent wildfires. A select list of seventeen conservation practices is available to address immediate resource concerns such as erosion, invasive noxious weeds, and hazard trees.
Applications can be submitted through your local field office. Applications will be evaluated and selected for funding weekly beginning November 27 through the end of December 2020.
The office serving Alameda County is listed below:
Livermore LPO


3585 Greenville Rd Suite 2
Livermore, CA 94550-6707
(925) 453-3866
Follow this link to learn more about the California Wildfire Disaster Recovery funding pool: https://go.usa.gov/x7vgW
Carbon Farming Fact Sheet
Want to know more about the ways that farmers and ranchers can help mitigate climate change while improving soil health and increasing crop yields & forage production? Check out the Carbon Farming Fact Sheet to read more about carbon farming and how to get involved.
Alameda County Conservation Partnership
The Alameda County Resource Conservation District (ACRCD) and the USDA Natural Resources Conservation Service (NRCS) collaborate as the Conservation Partnership to serve as the lead conservation agency in Alameda County. We provide technical and educational services for natural resource conservation and agriculture enhancement. The Partnership collaborates with many partners including private landowners, local, state and federal agencies and other organizations to develop and implement various conservation and agricultural strategies. The ACRCD also works closely, on a fee for service basis, with public agencies and private sector companies, to help achieve conservation based goals.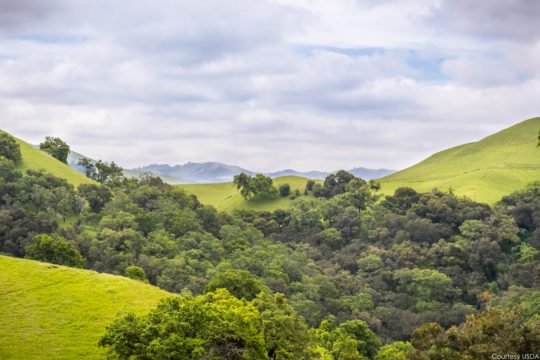 Lastest ACRCD News
Barbara Camacho
Click here to participate in CDFA's Healthy Soils Week, including webinars, at-home compost and gardening activities, as well as children's projects. These activities culminate for this Saturday's UN's World Soils Day on December 5th. [...]
Barbara Camacho
What are the effects of smoke and ash on the safety of produce growing on farms and gardens? After the heavy fire season in California, there are concerns from farmers and gardeners about food safety. [...]
Barbara Camacho
Are you interested in learning about the benefits of cover cropping? Did you miss University of California Cooperative Extension's Cover Cropping Opportunities in Specialty Crops webinars series? These webinars are free and accessible for all farmers, [...]