925-453-3861
Katherine Boxer joined the District in January, 2013 as Executive Officer. Katherine holds a Bachelor's degree in Biology from the University of California, Santa Cruz. Ms. Boxer possesses an extensive background in parks, recreation, natural resources management and emergency planning. Katherine's management experience encompasses the public, private, and non-profit sectors. Katherine has a menagerie of animals and enjoys gardening, volunteering with animal rescue organizations, and antique treasure hunts.
925-453-3863
Cynthia Butler has been with the District since 2007. She works closely with the Alameda County Flood Control and Water Conservation District and Alameda County Unincorporated Area to help coordinate their Clean Water Outreach Programs, which are focused on stormwater pollution prevention. Prior to coming to the District, Cynthia worked for Alameda County Public Works Agency in the Environmental Services Division assisting in obtaining environmental clearance and permits for construction and maintenance projects. Cynthia has a degree in Wildlife Biology from Penn State University.
925-453-3856
Drew joined the RCD in Spring 2018, bringing over 8 years experience in wildlife biology, habitat restoration, and water resource management to the team. He utilizes this experience to fulfill his primary responsibility of managing the Stream Maintenance Program for the City of Livermore. Drew has a Degree in Natural Resources Management and Environmental Policy from SDSU and is a Certified Professional in Erosion and Sediment Control as well as a Qualified Storm-water Prevention Plan Developer. He has extensive experience working on large-scale utility, renewable energy, and private sector projects throughout California. Drew is enthusiastic to work with local communities to enhance, restore, and protect Alameda County streams and watersheds.
925-453-3863
Marilyn is the accountant, who has been with the Conservation Partnership since July 2007. Previous to this position she as employed for the Farm Credit System doing accounting work for over 25 years.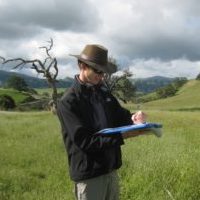 925-453-3858
Ian Howell has supported voluntary restoration and enhancement projects at the Alameda County Resource Conservation District for over five years as a resource conservationist. He has managed several grant-funded programs including Alameda Creek Healthy Watersheds, Rangeland Resilience, and Carbon Farming. Ian also coordinates the Alameda Creek Watershed Forum and collaborates with public agency partners and private agricultural producers on land management topics. He received a master's degree in Environmental Studies from the University of Pennsylvania in 2012.