925-453-3861
Katherine Boxer joined the District in January, 2013 as Executive Officer. Katherine holds a Bachelor's degree in Biology from the University of California, Santa Cruz. Ms. Boxer possesses an extensive background in parks, recreation, natural resources management and emergency planning. Katherine's management experience encompasses the public, private, and non-profit sectors. Katherine has a menagerie of animals and enjoys gardening, volunteering with animal rescue organizations, and antique treasure hunts.
925-453-3863
Cynthia Butler has been with the District since 2007. She works closely with the Alameda County Flood Control and Water Conservation District and Alameda County Unincorporated Area to help coordinate their Clean Water Outreach Programs, which are focused on stormwater pollution prevention. Prior to coming to the District, Cynthia worked for Alameda County Public Works Agency in the Environmental Services Division assisting in obtaining environmental clearance and permits for construction and maintenance projects. Cynthia has a degree in Wildlife Biology from Penn State University.
925-453-3856
Drew joined the RCD in Spring 2018, bringing over 8 years experience in wildlife biology, habitat restoration, and water resource management to the team. He utilizes this experience to fulfill his primary responsibility of managing the Stream Maintenance Program for the City of Livermore. Drew has a Degree in Natural Resources Management and Environmental Policy from SDSU and is a Certified Professional in Erosion and Sediment Control as well as a Qualified Storm-water Prevention Plan Developer. He has extensive experience working on large-scale utility, renewable energy, and private sector projects throughout California. Drew is enthusiastic to work with local communities to enhance, restore, and protect Alameda County streams and watersheds.
925-453-3863
Marilyn is the accountant, who has been with the Conservation Partnership since July 2007. Previous to this position she as employed for the Farm Credit System doing accounting work for over 25 years.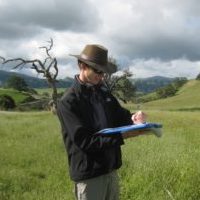 925-453-3858
Ian Howell has supported voluntary restoration and enhancement projects at the Alameda County Resource Conservation District for over five years as a resource conservationist. He has managed several grant-funded programs including Alameda Creek Healthy Watersheds, Rangeland Resilience, and Carbon Farming. Ian also coordinates the Alameda Creek Watershed Forum and collaborates with public agency partners and private agricultural producers on land management topics. He received a master's degree in Environmental Studies from the University of Pennsylvania in 2012.
925-453-3862
Allison has been with the District since 2019. She has a background in philanthropy and a desire to better the community she lives in. She works closely with project managers to support the Alameda County Clean Water Outreach Program and the overall mission of the ACRCD. She has a BA from Western Washington University.
925-453-0154
Jennifer Trevis has supported numerous conservation, restoration, and educational programs since joining the District in 2016. She specializes in watershed management, agricultural education, and soil ecology. Prior to joining the ACRCD, Jennifer worked as an Environmental Specialist for the Tampa Bay Aquatic Preserve, monitoring and restoring riparian habitats, and as a State Park Ranger with a focus on native plants and wildfire ecology. She holds a BS in Agriculture and Natural Resource Management and an MS in Soil and Water Science with an emphasis on restoring damaged and contaminated ecosystems. She loves learning and teaching others about plants, mushrooms, and invertebrates.
925-453-3857
Raised in Redwood City and living in San Jose, Colleen is proud to call the Bay Area her home and is deeply committed to the preservation and community-led stewardship of our regional open spaces, public parks, and agricultural lands. Colleen is a farmer with almost 10 years of experience working on small and mid-scale organic farms, as well as multiple years of experience coordinating educational and community engagement programming related to agriculture. At the ACRCD, Colleen manages the Sunol AgPark and works on urban farming initiatives, as well as supporting carbon farming and healthy soils programs. Colleen is a dynamic and driven manager with a passion for mentorship, accountability, and mutual growth, and she is a farmer deeply committed to sustainability and the stewardship of our regional agricultural heritage.
925-453-3863
Hannah (she / her) is passionate about equitable and collaborative fire and forest management. As a Fire Specialist, Hannah works closely with our ACRCD team, the Contra Costa Resource Conservation District, and a consultant from Wildland Resource Management, Inc., to develop a multi-agency, collaborative fire mitigation plan that spans both Alameda and Contra Costa counties. Her work also aims to expand fire outreach and education efforts of ACRCD, support the Diablo Fire Safe Council's "Partners in Wildfire Prevention" program, and build ACRCD's capacity for future fire and forestry work. Prior to joining the ACRCD team, she has worked with the Informatics and GIS program of UC Agriculture and Natural Resources, the California Fire Science Consortium, and as a forestry technician in the Sierra Nevada Mountains. Hannah has a degree in both GIS and Ecosystem Management & Forestry from UC Berkeley.
925-453-3865
Barbara (she/her) is deeply committed to the protection of natural resources. She has a degree in Forestry and Natural Resources from UC Berkeley. As a project assistant, Barbara provides technical assistance on many different projects at the District ranging from agriculture, carbon farming, and fire. Prior to joining ACRCD, she worked for the Golden Gate National Parks Conservancy and the Nature Conservancy. Her background is in restoration, botany, and community science from nonprofit organizations and academia. Barbara is passionate about making nature accessible to all and working towards environmental justice and equity. She enjoys cooking, caring for plants, and hiking across California. Hablo español, por favor contáctame si tienes cualquier pregunta.